Body Power 2-in-1 BST800 Elliptical Stepper Trainer
It's lightweight, compact, and portable.

Stable and durable

Supports maximum user weight of 250 lbs./113kg

This 2-in-1 machine provides both an elliptical and stepper path.

It operates quietly and smoothly.

It is low-impact and can be used to tone and lose weight.

There are two sets of handlebars, one static and one moveable. They have cushioned grips.

They are large and textured, with protective guards.

You can choose from 8 levels of manual resistance to achieve a variety of intensity.

LCD monitors your workout progress and displays stats like Speed, Distance, Odometers, Calories, Time, and Pulse.

EKG heart rate sensors

Very little maintenance is required

Tablet holder included

It is easy to assemble
Description
The Body Power 2-in-1 BST800 Elliptical Trainer offers both an elliptical and stepper path. It's a low-impact, total-body machine that provides cardiovascular training that burns calories and improves heart health and fitness. It's compact and inexpensive, so you don't need to spend a lot of money to get one. 
To see the Body Power 2-in-1 BST800 Elliptical Stepper Trainer, click right.
Construction and the Frame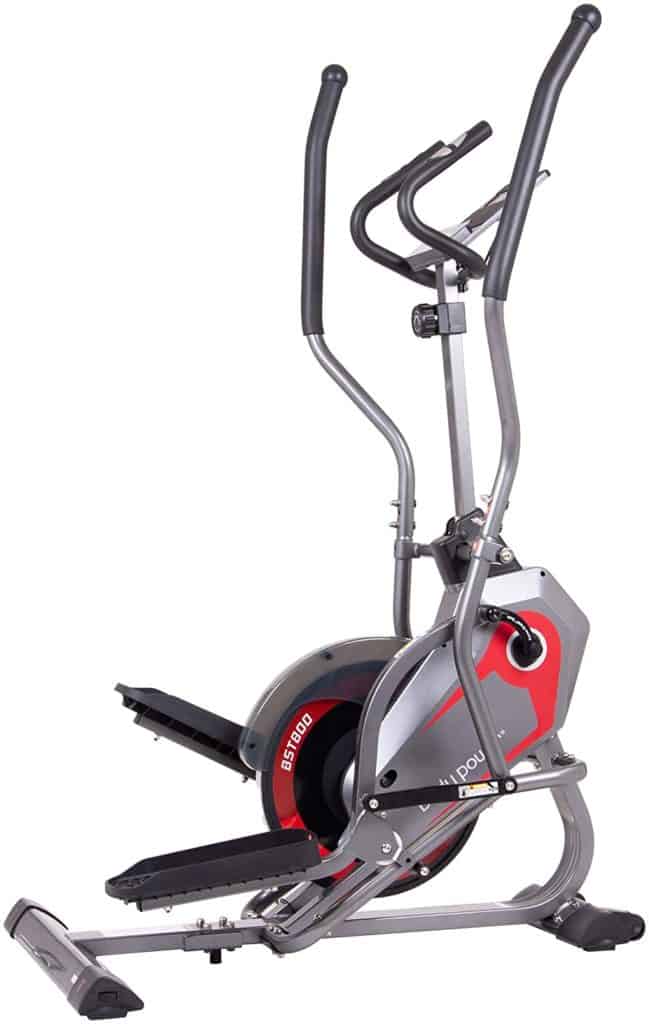 The Body Power 2-in-1 BST800 Elliptical Stepper Trainer was designed for home use. It is made of heavy-duty steel and coated with anti-rust paint. As a result, it is protected against environmental influences that could cause it to deteriorate over time.
It can support a maximum weight of 250 lbs./113kg.
It measures 42" in length, 28" wide, and 62 inches high when assembled. Naturally, therefore, it needs a gym area measuring 3'5′ long by 2'4″ wide. For a safe and comfortable workout, an extra 2′ clearance will be needed around the unit. This is particularly important if you plan to use the unit in a restricted area. The recommended ceiling height for the area where it will be used should not exceed 1'8′ (20″) plus your height as its highest pedal position is approximately 17".
Its stability is great despite its small footprint. The base framework features steel stabilizer bars and rubber pads. These bars promote traction and floor-friendliness. In addition, the adjustable levelers at the rear base allow users to balance the unit even on an uneven surface.
The 88 lb/40 kg weight combined gives it an extra boost instability. Some users complained that it wobbles slightly. Adjust the rear base levelers and use a rubber mat if it swings. The 2-in-1 BST800 Elliptical Stepper shares many similarities with the Progear 9900.
The Handlebars of the BodyPower 2-in-1 BST800 Elliptical Stepper Training Trainer
The handlebars of this unit have dual handles. One set is mobile, and the other is static. Both are non-adjustable, but they are perfectly positioned to make the unit suitable for all users. In addition, they are coated with anti-slip foam to prevent slippage and blisters.
They offer secure, comfortable grips that will allow you to exercise longer.
Attached to the console mast are the inverted static handlebars. These handlebars integrate the EKG HR sensors, transmitting heart rate data to monitors when held during exercise.
The HR sensors are not available for the moveable handlebars. However, they can be connected to pedal bars and curvy cranksets.
You can therefore engage your whole body or just the lower part of your body during a workout.
The Pedals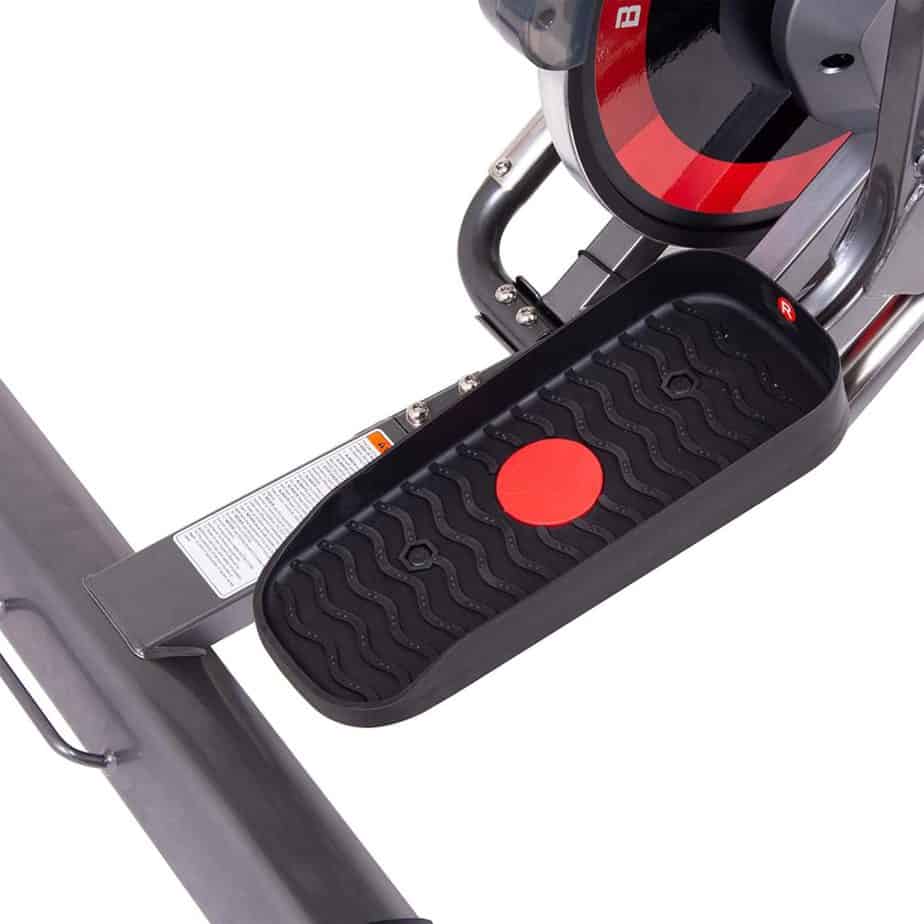 As mentioned, the pedals and the handlebars can be interconnected so that they don't exist in isolation. In addition, the pedals and the handlebars are interlinked so that they can be pressed during exercise.
The oversized, textured pedals have a 1" guard to prevent feet from slipping while exercising. Each one is made from durable ABS material. They are attached to a large roller-shaped steel bar for quiet, smooth gliding operation.
These pedals provide an elliptical movement and stepper movement that is not possible with regular elliptical trainers.
The stepper has a height of 5 inches (lowest position), making it easy for users to use the stepper.
It is important to note that the stride length should not be indicated but should be approximately 13 inches or less.
The Drive
DriveThe Body Power 2-in-1 BST800 Elliptical Trainer features a large, bare front-mounted perimeter-weighted Flywheel. However, it does have a transparent plastic safety cover at its top. Its weight isn't known, but it is likely to be heavier than the other elliptical machines.
It provides constant momentum, which translates into smooth and vibration-free movement. The machine has a belt drive system consisting mainly of a durable belt, pulleys, and cranks. They are also covered with hard plastic shrouds to ensure safety and cosmetic purpose. It is quiet and smooth to use. You can exercise whenever you like, as your workout won't be disturbed by others. The drive system is also maintenance-free. You don't have to take apart the shrouds and adjust or lubricate the internal mechanisms.
The Resistance System
The BST800 Elliptical Stepper Trainer comes with an 8-level adjustable manual magnetic resistance system. It includes a magnetic brake pad and a flywheel. The tension knob is attached to the mast just below the console and static handlebar. When the magnetic brake pad is close to the flywheel, it emits a magnetic field. The distance between the magnetic brake pad and the flywheel determines the intensity.
The resistance system is frictionless. It doesn't wear out; it doesn't need to be replaced or needs any maintenance. Turn the tension knob clockwise or counterclockwise to increase or decrease resistance intensity. The resistance adjustment is made manually, so the stepper does not need to be connected to a power source to work. Light to moderately challenging workouts will be offered to users that can help with weight loss, muscle tone, and improving cardiovascular health.
The Console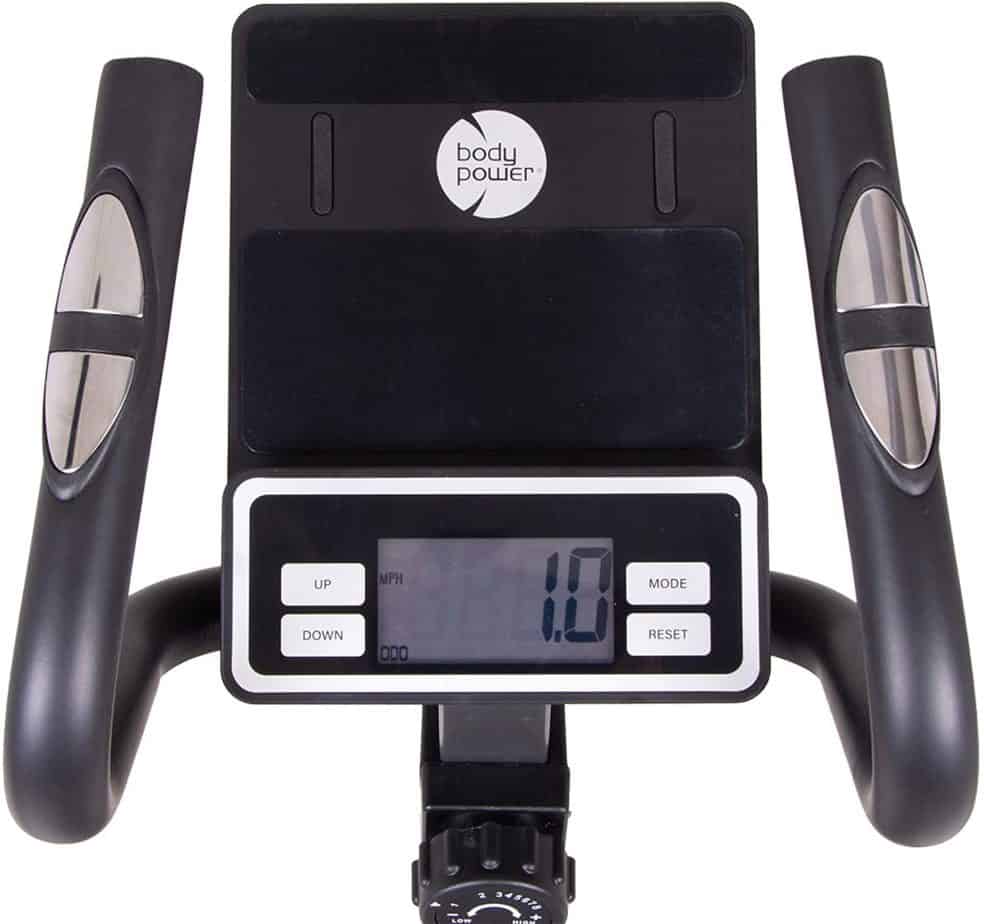 The Body Power BST800 Elliptical Stepper has a 3.5″ non-backlit LCD monitor. It monitors your workout progress, including time, distance, odometer, speed, RPM, and heart rate. It is easy to see, but it will not be as clear if the room is dimly lit.
Because the display screen is too small to allow for all metrics at once, the metrics are rotated one by one after every five seconds. You can choose to display a particular workout value continuously instead, however.
You must use the EKG contact grips to view or track your heart rate while you are exercising. This is because the console cannot be telemetry enabled. Distance and speed are measured in miles and mph, respectively.
2 AAA batteries are included in the package. The monitor is powered by 2 AAA batteries (included). It automatically shuts off after 4 minutes of inactivity. When the signal comes back, it turns on.
You can also manually turn it ON/OFF using any of the buttons located on the console. There are four navigation buttons: Mode, Reset, and Up & Down. These buttons are simple to use and well described in the manual. The console doesn't have preset programs or wireless connectivity.
Accessory
The console has a large, strategically placed tablet holder. It can hold different sizes of tablet devices securely without blocking the view of your display screen.
The machine does not have any additional accessories, such as a water bottle holder. Therefore, to ensure proper hydration, you will need to come up with your ideas.
Storage
The Body Power 2-in-1 BST800, Elliptical Stepper Trainer with Body Power, is lightweight, portable, and compact. It is also easy to store.
It is only 88 lbs./40kg and measures 42" in length, 28" wide, and 62′ high. It can be stored in a space measuring 3'5′ long by 2'4 width and easily moved using the front-mounted transport wheels.
Warranty
One year for the frame

90 days for the parts
Specifications and dimensions of the product
Length 42

Width 28

Height: 62″

Dimensions of the shipping container: 10.04′" L x 33.07'' W x 44.65" H

Net Weight: 88 lbs./40 Kg

Gross weight: 96.8 lbs./44kg

Maximum weight limit: 250 lb/113 kg

Belt Drive

Resistance: 8 levels, manual

Frame: Steel

Handlebars: 2 sets (fixed and moveable)

Pedals: Large, textured, and with a protective shield

Stride length:

Monitor/console, basic, non-backlit LCD

Power: 2 AAA batteries included

Yes, tablet holder

Water bottle holder:

Yes, transport wheels
Shipping
The BST800 Elliptical Stepper comes in a box that is 96.8 lbs./44kg and measures 10.04″ L x 33.07″ W x 34.65 "H."
Amazon offers free shipping and delivery within a few days.
Assembly
Because the parts are pre-assembled, the assembly of the unit is simple.
The core unit will only require the attachment of the base stabilizers and mast and the handlebars and console. It takes over an hour to complete this task.
Included in the package are the tools required for assembly, as well as an instruction manual that will guide you through the process.
Maintenance
The BST800 Elliptical Stepper does not require any maintenance.
Please keep it clean at all costs. The console should not be exposed to heat, liquid, and moisture.
Before you use the machine, inspect it for any loose or damaged parts and take appropriate action if necessary.
Conclusion
The Body Power 2-in-1 BST800 Elliptical Stepper Trainer was explicitly made for home use. This is the perfect option for people who want to increase their physical fitness but don't have enough space or budget.